Tires - Automotive, Truck & Trailer
A Few Of The Brands We Carry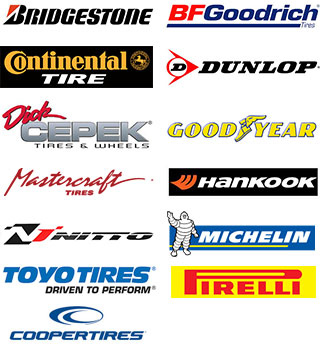 How do you roll? The tires on your vehicle says much about the kind of ride, safety, performance and style they offer, including the personal taste of the owner. Whether your looking for OEM replacement tires, snow tires, All-terrain, or serious Off-road, we've got you covered. We carry all the major brands, from Subarus to HD Trucks. Our TIA (Tire Industry Association) trained technician know the ins and outs of safe handling and installation of today's alloy wheels and TPMS (tire pressure monitoring systems) now standard on nearly all new model vehicles. Your safety is our concern.

Free tire rotations for life of tires purchased.
Additional road damage warranty plans available.
Tire Balancing
Snow Tires
Off Road Tires
All Season Tires
All Terrain Tires
Racing Tires
4 x 4 Tires
Trailer Tires
Trailer Wheels

Bridgestone Tires
BFGoodrich Tires
Continental Tires
Dunlop Tires
Dick Cepek Tires
Good Year Tires
Mastercraft Tires
Hankook Tires
Nitro Tires
Michelin Tires
Toyo Tires
Pirelli Tires
Cooper Tires
Nokian Tires
BFG Tires

If you're thinking about a lift kit we can help here too. From leveling kits to something tall enough to tuck 35s under, We love lifts; Jeeps or trucks.
Call Us To Learn More: 970.879.2939